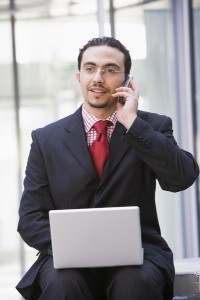 Are you in the process of finding a new job?  If you are, you may have job interviews already lined up. In fact, you may have already had a number of job interviews take place.  If that is the case, did you follow up with the interviewer or the employer in question?  If follow-up contact, such as a telephone call, is an action that you have yet to take, you may want to examine your options.
When it comes to determining whether or not you should follow-up on all job interviews that you have had, like with a quick office visit or telephone call, there are many job seekers who are unsure as to how they should proceed.  Since many are unsure of the action that they should take, many just do nothing.  If you would like help in determining what you should do after attending a job interview, you will want to continue reading on, as a number of advantages and disadvantages to job interview follow ups are outlined below.
As for the advantage to follow-ups with the employer or interviewer in question, you will find that there are a number of them.  One of those advantages is the impression that you can create of yourself.  Checking to see how the selection process is coming along or if you can answer any additional questions is a great way to show that you are truly interested in the open job position.  It also shows initiative on your part.  This is something that many companies look for in their new hires.
Another one of the many advantages to following up after a job interview is the answers that you may get.  If the employer in question has yet official make a decision, but your name is still in the running, you may be told to call back later or wait for a phone call, which should arrive when a decision has been made.  On the other hand, if it has been determined that you are not the right candidate for the job, you may be notified of this when you make your first contact attempt.  This notification is ideal as it encourages you to explore your other options without wasting any precious time.
Although there are a number of advantages to following up after a job interview, you will also find that there are a number of disadvantages to doing so as well.  As previously stated, an interview follow-up may help to create a good impression of yourself. What you need to know, however, is that this impression can work both ways.  Some employers view follow-up phone calls as unnecessary distractions.  If you were told to wait until you heard from the company, you will want refrain from making any follow-up contact, as your actions can have negative results.
The above mentioned advantages and disadvantages are just a few of the many to job interview follow-ups. As previously stated, you will want to try and make sure that you follow the advice or instructions given to you by each employer or interviewer.  This means that if you are asked to refrain from making contact, you will want to do so. It is also advised that you avoid calling during known busy times, such as lunch or right before the workday ends.